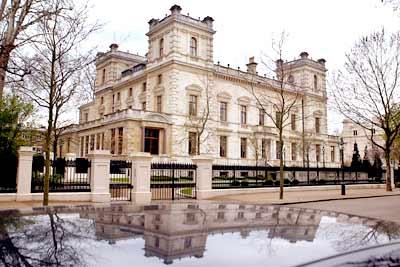 The 70-MILLION pound mansion belongs to Lakshmi N Mittal, Chairman and CEO, of the LNM Group. He has bought a central London house for a stunning price of 70 million pound($128.25 million).
The 12-bedroom mansion located at the prestigious Kensington Palace Gardens has garage space for 20 cars. Bernie Ecclestone, the Formula One racing boss, who sold the house to Mittal, had bought it for his wife three years ago.
The Kensington Palace Garden houses are dubbed as Billionaires' Row and houses Sultan of Brunei and J.K Rowling(Author of the Harry Potter book series) among other famous people. It is also close to Kensington Palace where Princess Diana lived.

Photo: Odd Andersen / AFP / Getty Images